Here at Rodo Creative, we want to help those bride and grooms to be at this difficult time. We are offering any couple who have had to move their date with a 'Change the Date' postponed wedding JPEG to be designed free of charge!
It's safe to say this isn't something we ever thought we'd have to advertise, however with so many of our lovely couples having a postponed wedding due to current events. We wanted to let you guys know that we are now offering digital "Change the Date" designs free of charge.
We hope this little gesture will help to keep couples positive for the future during this extremely difficult time. All colours/text/fonts we can edit to suit your existing wedding stationery.
Please feel free to contact us if you require a digital design. We hope we can help.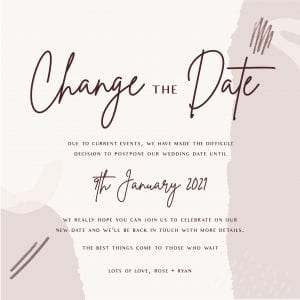 During a time like this, you realise what really is important in life. When your weddings take place, people will appreciate the get together so much. Your wedding will be something to really look forward to! We know it's a truly hard time with all the planning you've been doing. But we really hope that in the end your wedding is all you could have wished for and more.
We wish you all the best, and hope this small gesture will help you to stay positive through this.
If you have any questions, please do get in touch. We'd love to hear from you!
Stay Safe xxx