Many people now choose to name their wedding tables after something they as a couple love!
Table numbers do work well at weddings, however if you have a lot of tables, people can sometimes feel a little put out if they are on table number 25.
To avoid anyone feeling left out on the day, by naming your tables something personal, everyone is more equal! It can also create a talking point for your guests too!
But it's sometimes hard to know what to name your tables. Some advice from us is to name tables after something you love, or something personal to yourselves as a couple. Maybe something you have done together like holidays you've been on, destinations you've visited or your favourite bands!
Shop our Table Names and numbers here – these can be changed to suit you!
Or contact us if you want something bespoke – we would love to design something for you!
To help you on your way, we have put together a list of some of our favourite table name ideas:
Table Names for Music Lovers:
Favourite bands – you could use an image of their album covers.
Bands you have seen together.
Song lyrics of your favourite songs.
Festivals and concerts you've attended – festival posters or tickets would be great idea to have on the tables!
Table Names for the Travel Lovers:
Favourite Holiday destinations – you could even include your honeymoon destination!
Places you've visited together – add a photos of yourselves in these places to make it extra special.
Iconic buildings or landmarks your been too.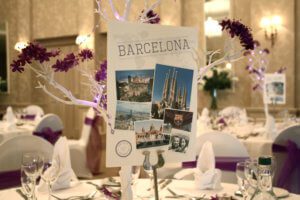 Table Names for Film Lovers:
Film Titles.
Quotes from your favourite films.
Table Names for those who love their food and drink:
Favourite Cocktails/drinks.
Favourite Sweets.
Pubs or restaurants that you both love or are special to you.
Some items off your Wedding Breakfast Menu.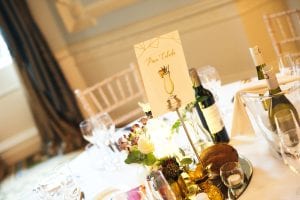 Table Names for those who have been together a very long time:
Years you have been together – this is sure to create a talking point for your guests.
Street names – could be places you've lived, places you've had a special date, or a relationship milestone.
Timeline of your relationship – special dates in your time together.
More unique ideas for your wedding Table Names
Books you love.
Favourite comedians – maybe have your favourite joke too – create some laughs around the venue.
Animals – Name your table names after your favourite ones – could even include pets!
Flowers or plants that you love – this would be really decorative on your table if you had a botanical theme.